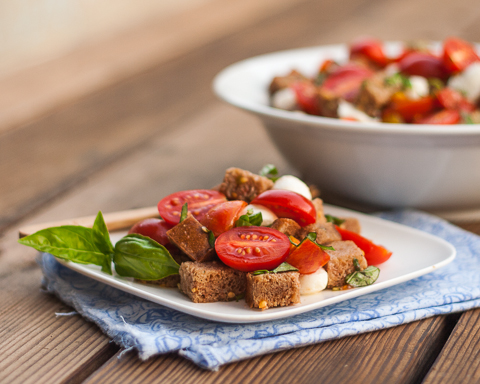 Most of the time, my family can't keep up with the steady stream of food experiments taking shape in my kitchen.  Fortunately, disposing of cupcakes, cookies, and brownies – even imperfect ones —  is easy to do;  I can usually count on neighbors or friends to take excess sweets off our hands.
But when it comes to bread, it's a totally different story.  Even if I have it in abundance, I'm often not willing to share.  With cupcakes, I don't actually want to eat two dozen by myself; somehow, though, when left alone with them, I accidentally do. Unlike dessert, bread usually plays a supporting role, and this makes it super versatile.  I WANT to eat all of it!
Even when bread starts to stale (which it tends to do if you're a hoarder ), I see it as an opportunity:  cubed and frozen, it's great to have on hand for making stuffing, fresh croutons, or bread pudding.  I love to stockpile it, and I'm pretty good about slicing it up before it's too late.
Just the other day — knife in one hand and the remains of a rock-hard rustic loaf in the other —  I eyed the sheer mass of garden tomatoes lining my kitchen counter.  This time, I decided to skip freezing — this loaf was destined for immediate consumption in the form of Tuscan bread and tomato salad. Read more