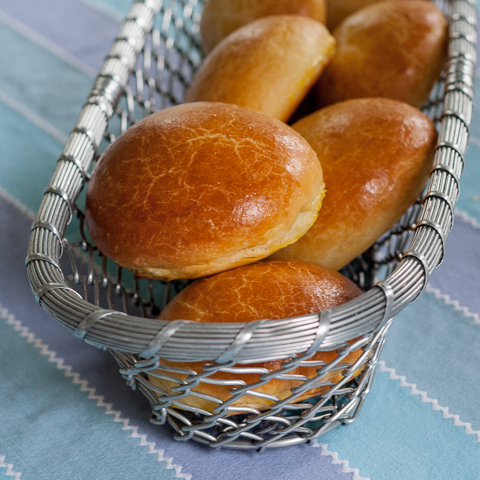 The other morning, six-year-old Tessa said,"I want to do a baking project today called 'not those buns.'"
Frankly, I felt the same.  I'd baked brioche hamburger buns nearly every day for a week.  Ever since I'd feasted on pulled pork layered thickly into a toasted brioche bun at Dad's Diner A Go-Go in Anacortes, WA, I'd become obsessed with creating the perfect brioche bun.
I'd gotten damn close, too.  Time and time again, the rolls emerged from the oven with a flaky, tender texture and a rich, buttery flavor.  We'd savored them with hamburgers, sloppy joes, and roast beef.  My daughters popped them in the toaster with abandon and gobbled them down with butter and honey for breakfast.  These brioche buns were perfect in every way but one: they always cracked down the middle while baking.